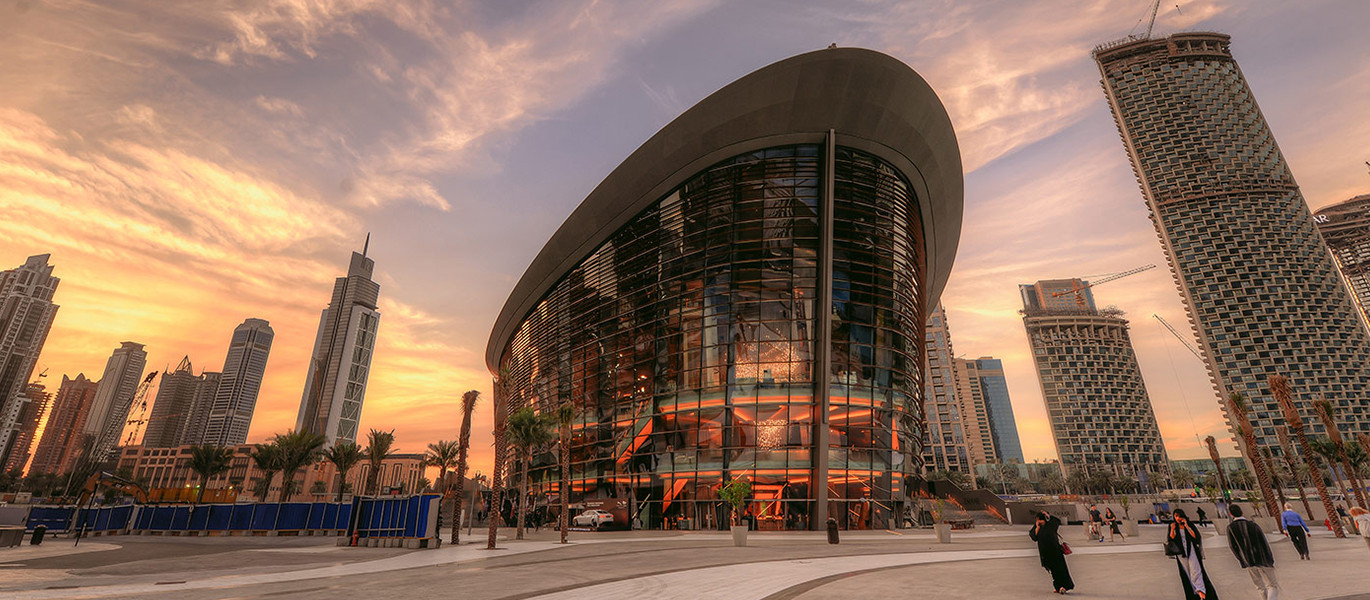 Dubai Opera is a 2,000-seat, multi-format, performing arts center, which is located within The Opera District in Downtown Dubai. It was designed by Zaha Hadid, constructed by Consolidated Contractors Company (CCC) and developed by Emaar Properties. Its plans were announced by Sheikh Mohammed bin Rashid Al Maktoum in March 2012 and it was completed in 2016.
Dubai Opera is part of The Opera District within Downtown Dubai. The 1901-seat performing arts center was designed by Janus Rostock of Atkins. The theatre was conceived and briefed by Theatre Projects Consultants, it can be converted into a traditional theatre, concert hall, banquet hall or exhibition space. Using hydraulic lifts and seating wagons to relocate 900 of the 2,000 seats, the space can be used for other events while the extra seating is stored in garages beneath the theatre.
Dubai Opera is designed to resemble a dhow, a traditional sailing vessel, in which the 'bow' of the structure houses the opera's main stage, orchestra and seating, while the elongated 'hull' has waiting areas, taxi drop-off areas, and parking. It also boasts a rooftop restaurant with views of the Burj Khalifa.
Contribution for the development of the project not only fits ACO's worldwide experience to support the architecture of stunningly beautiful projects with utmost requirements for aesthetics and functionality. We also found inspiration in the intersection between the museum's concept to foster solutions to the challenges that future cities face and our company's dedication to the urban environment of tomorrow.
ACO supports the project with elegant slot drainage for the landscaping area and solutions for building drainage and grease management.
---