ACO Light Liquid and Oil Separators
Tailor - made or standard for all applications - certified products - German Technology.

Regardless of whether in multi-storey car parks, petrol stations, car washes or vehicle workshops: Wherever there is a risk of mineral light liquids getting into the drainage network, for example, petrol, benzene, lubricants or oils, the wastewater must be pre-treated. This prevents pollutants from contaminating the drinking water or groundwater. A light-liquid separator or petrol interceptor uses the difference in density of petrol and water to achieve this. The light liquid is collected and is disposed of regularly by recycling companies. Even better treatment is achieved by using a coalescence element, as used by ACO in its units. Light-liquid separators are available for installation in the ground and for freestanding installation.
Benefical for Engineers and Consultants
Design support (specification, drawings)
Customized solutions
Durability (chemical resistence, efficiency, easy manipulation etc.)
Certification (according to EN 858)
Benefical for Installers and Contractors
Easy handling and transportation
Interesting price policy
Easy maintenance
Local support and office (including logistics) in Jebel Ali Free Zone Dubai
International experience and knowledge of local markets
Benefical for Developers, Clients and Authorities
International certification as a German company
Worldwide experience
Local support
Reliability, long-life of the product with easy maintenance
No oil spills in your water, we help to protect the environment (not only from the ecological perspective) and we help to prevent drinking water and groundwater
Tailor-made products
---
---
ACO Separators for below-ground installation
made from polyethylene high-density (PE-HD)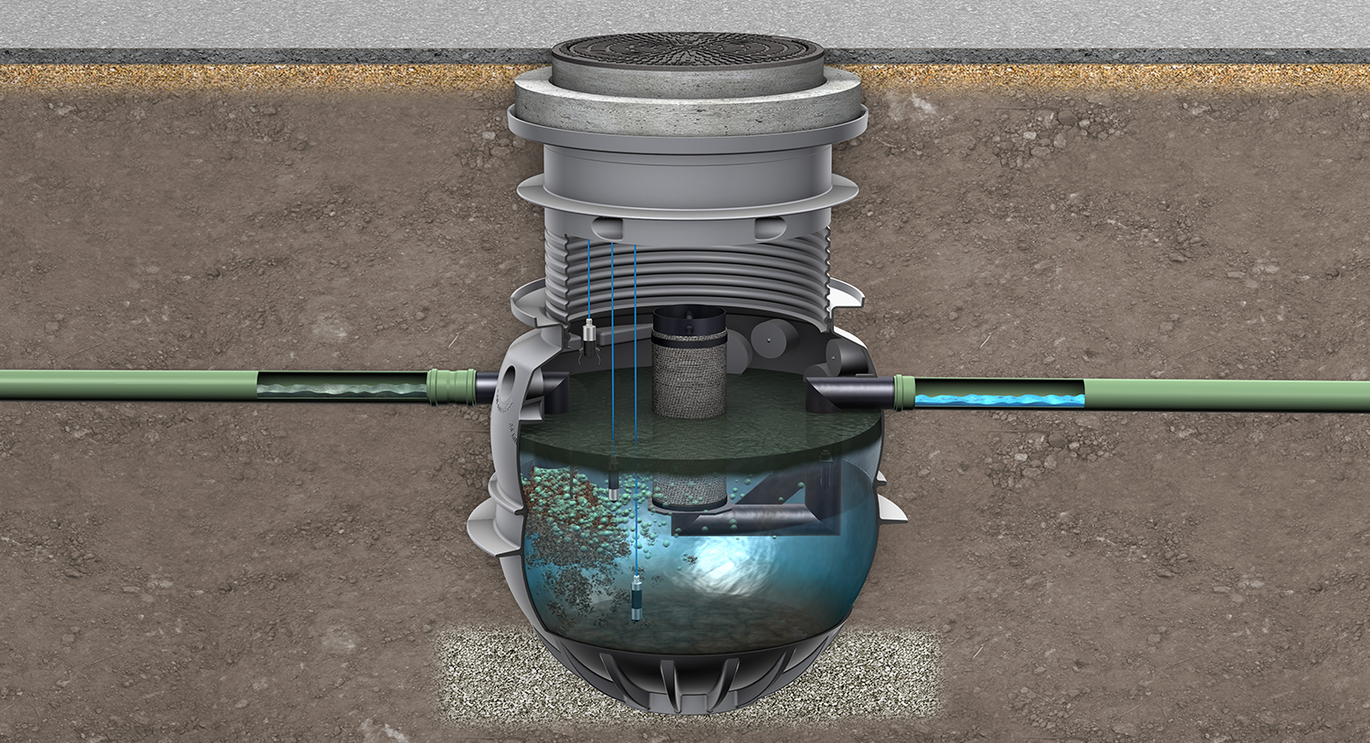 The rotomoulded tank system
In the case of light-liquid separators for below ground installation, the attachments can be shortened by the customer, depending on the application. The cover is suitable for class B according to EN 124. For increased disposal convenience, the separator can also be retrofitted with direct extraction. Both the sludge catches as well as the actual separators have a maintenance opening. Optionally, alarm systems can be installed.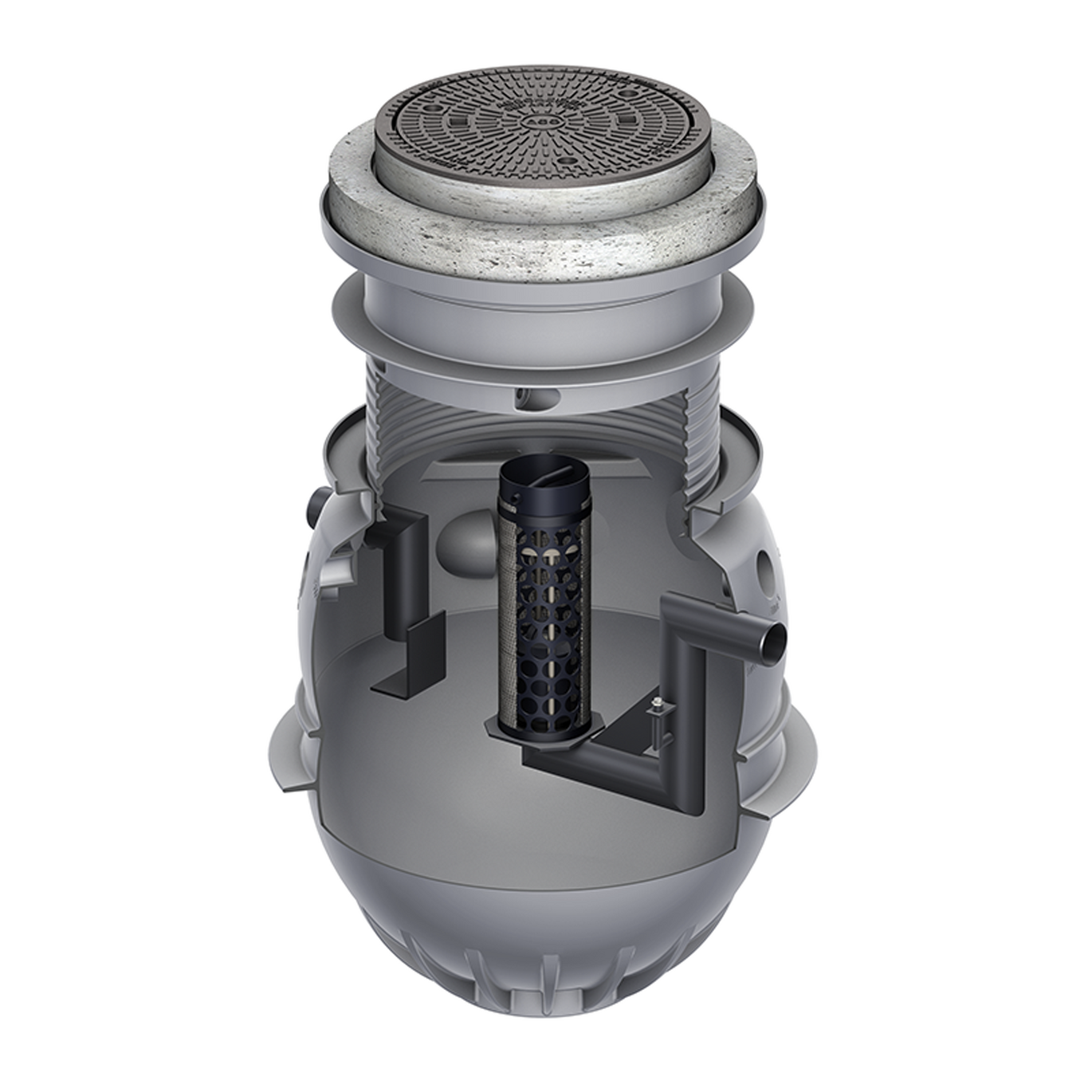 Features and benefits
All ACO light-liquid PE-HD separators meet the requirements of class EN 858.
Product stability guaranteed for 50 years
Certified statics have been calculated for the tank system
The tank system supplies structural stability for 50 years
Protection against ground water
Depending on the maximum allowed inlet invert and the load class applied, the separators can be installed in areas with groundwater without additional concrete castings
Flexible application
Load class A15
Load class B125
Load class D400
For more information about the ACO PE-HD Below-Ground Separatorsdownloadthe catalog and get in contact with our Sales Manager.
Separator body made from polyethylene (PE-HD)
---
ACO Separators for below-ground installation
made from glass reinforced plastic (GRP)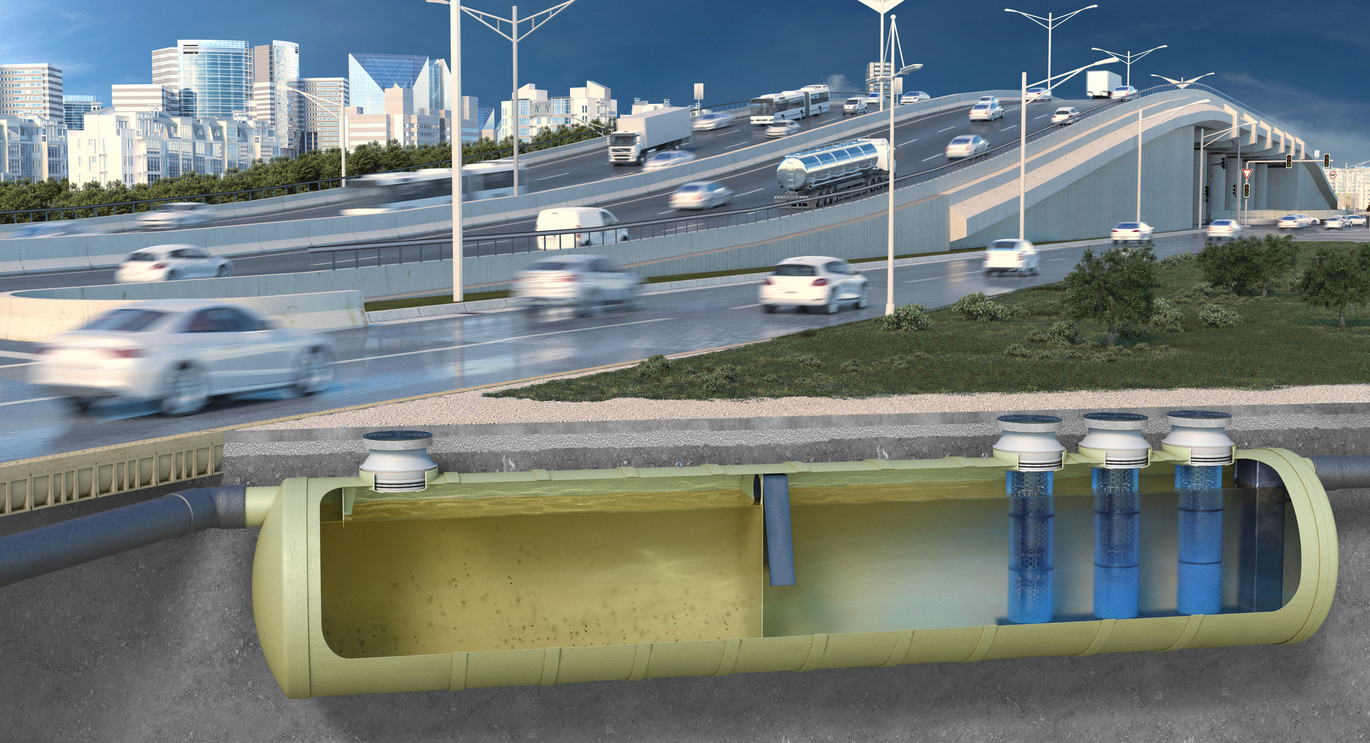 ACO uses GRP (glass fiber reinforced plastic)
"LIGHT AS PLASTIC, STRONG AS CONCRETE" A lightweight composite material made from glass fibers reinforced with polyester resin binders. The fibers can be obtained from various materials such as carbon, aramid, basalt or glass. Due to their great material properties, fiber-reinforced plastics are used in a wide variety of industrial sectors such as aerospace, automotive and shipping. ACO is producing horizontal and vertical separator bodies and ACO Stormclean filters in GRP. More information download here.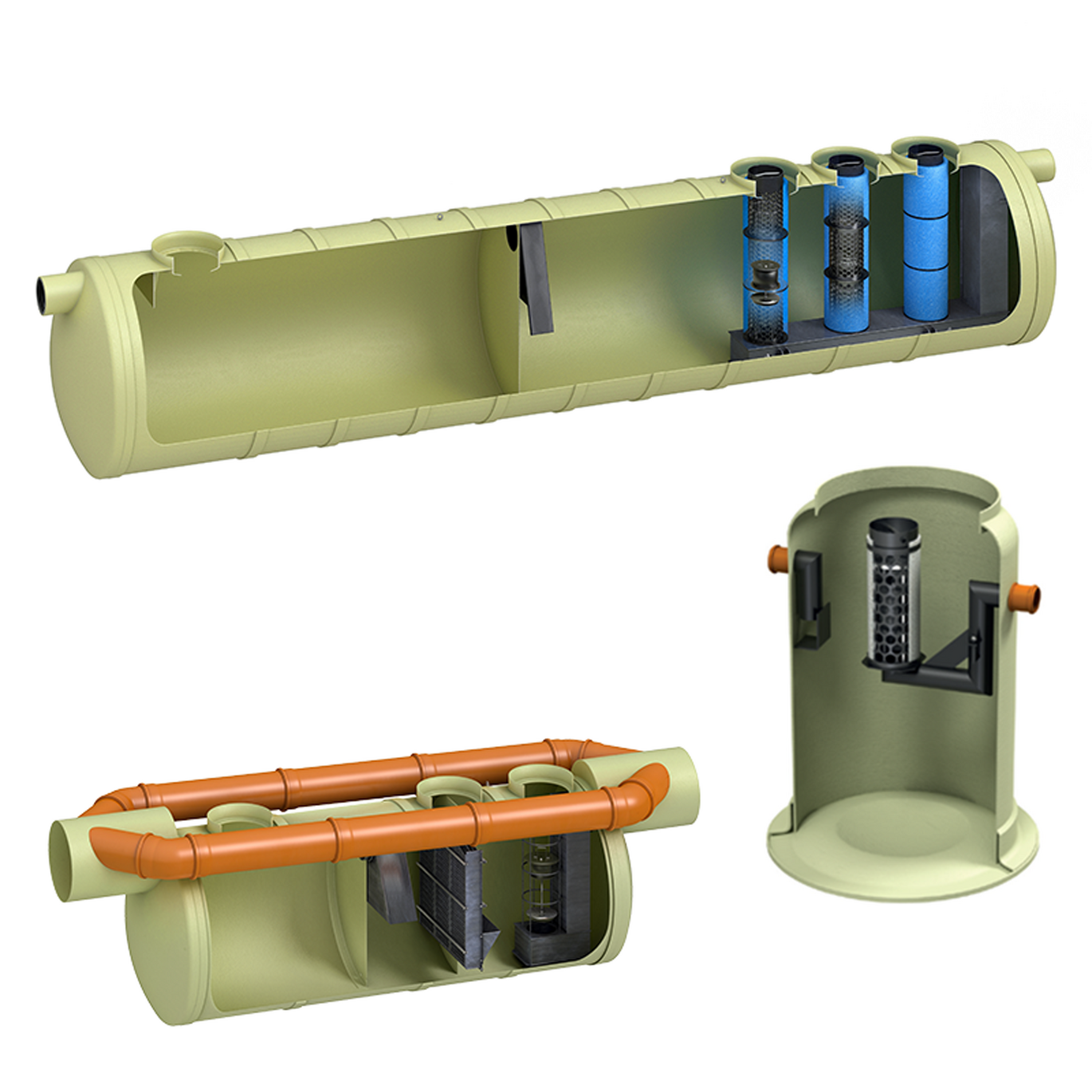 Features and benefits
All ACO GRP products meet the requirements of standard DIN EN 858.
Light weight
Cost-effective transportation and easy manipulation on site without need for heavy machinery
Fatigue resistant
Highly resistant to static and dynamic fatigues through its lifetime
High creep resistance
Resistance to deformation from local pressures ensures shape consistency and durability
Stable material characteristics
Resistance to external conditions (weather, UV radiation ect.) without change in mechanical characteristics
Non-porous material
No need of surface coating, non - corrosive
Easy customization
GRP material separators allow for tailored customer solution regarding shape, surface and chemical composition
For more information about the ACO GRP Separators and ACO Stormclean filters get in contact with our Sales Manager.
Separators and Stormclean filter bodies made from glass reinforced plastic (GRP)
---
ACO Separators for free-standing or below-ground installation
made from lightweight durable thermoplastic polyethylene (PE)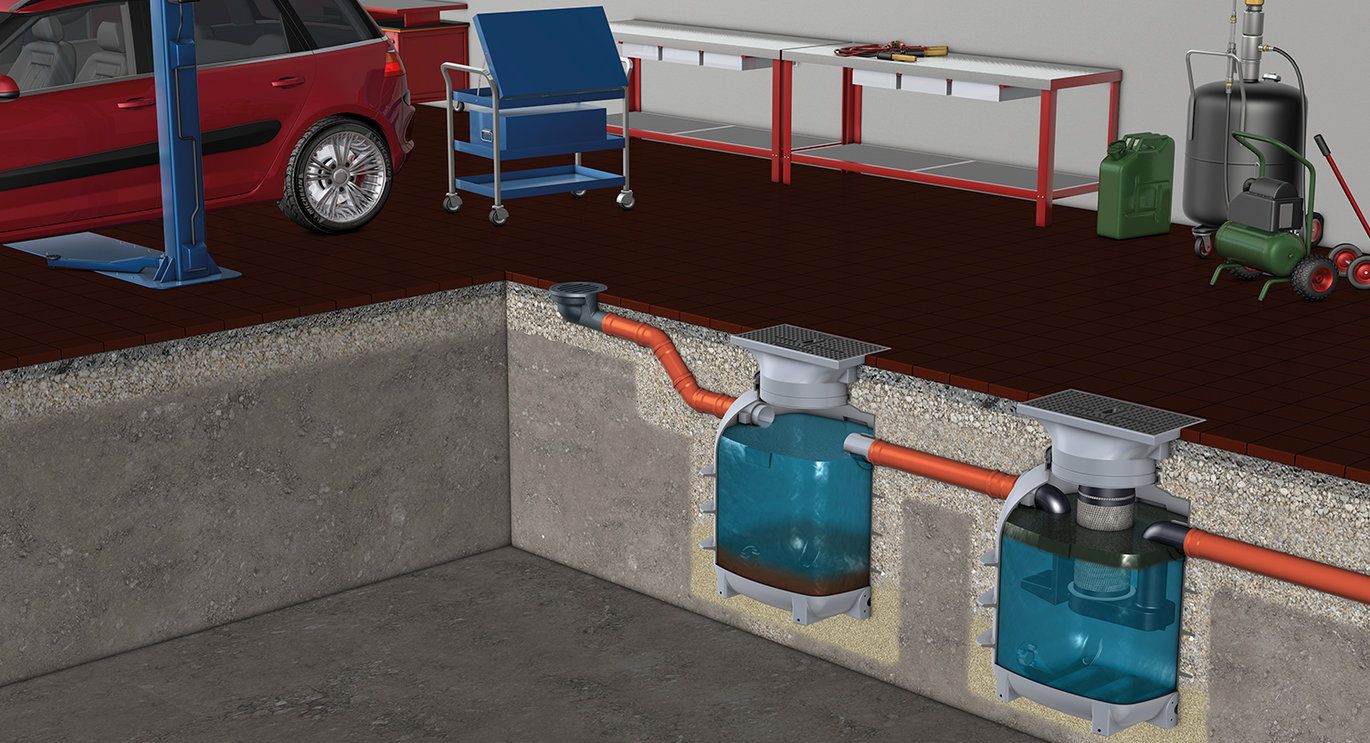 For indoor or below ground installation
ACO Separator systems are to be provided behind the drainage points if mineral oils or light liquids, especially those that are flammable or can form an explosive atmosphere, can get into the drainage network. For this purpose, we have developed the Coalizer-P to hold back light liquids of mineral origin from the dirty water.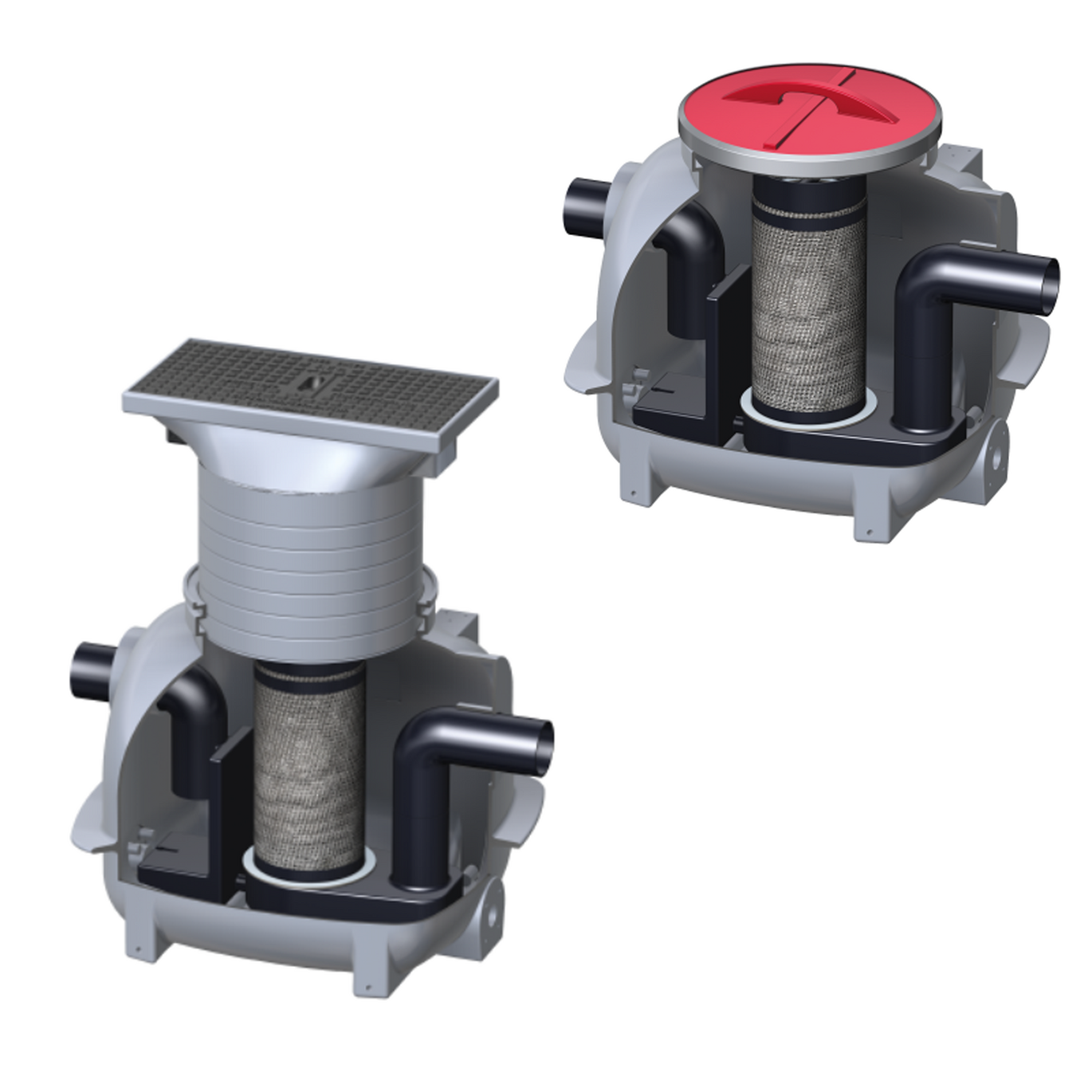 Features and benefits
All ACO light-liquid PE separators meet the requirements of class EN 858.
For free standing installation
Light oil separator according to DIN EN 858, Class II, for free standing installation in frost free rooms
Manufactured of polyethylene in oval design
Separator with float switch of plastic, tared for light liquids with density until 0.90 g/cm3
With supporting cage and coalescence insert
All parts removable, inlet and outlet fittings of polyethylene
With plastic cover Ø 450 mm with clamping ring
Inlet and outlet with OD Ø 110 mm for respective pipe connection
For more information about the ACO Free-Standing PE Oil Separators downloadthe catalog and get in contact with our Sales Manager.
---